University of Connecticut Student Television - Channel 14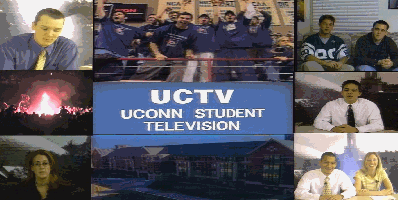 UCTV 14
The mission of the University of Connecticut Student Television is to ground students in the theory, criticism, economics, ethics, policy and practice of production and broadcasting; preparing them to participate as women and men of both competence and conscience in their future careers. By allowing students to work with precision, rigor, and understanding of their field of study within the media environment, University of Connecticut Student Television fosters understanding not only of media content, but also its premise, relationships to a broader society, limitations and influences. The Purpose of UCTV online is to give all members of the UConn community access to what is going on at our organization. We will have listings of programming for the week, and make it easier for students to submit comments, questions, or become a member of UCTV. The main goal of UCTV online is to make our organization more interactive to increase participation by the UConn student body..
---
March 3, 2000
Well Things have been busy at UCTV this semester. We have a new hit show on every Friday afternoon called Go-live. Our new semester of UCTV News is filming weekly, and UCTV Sports is beginning it's first semester. Our New Mailing list has made it possible to interact more between students and our new equipment is increasing our broadcast potential everyday. So stop on by and check us out and be a part of UCTV 2000!
---
As the new year begins and the Spring semester commences the

Exec board for 2000 would like to welcome you all back. Led by our General Manager Chuck Johnston, we are confident that this will be an exciting and educational semester at UCTV. With our new talent comes many new and positive ideas which we hope will make our station better than ever. What we would really like now, is YOU!!! If your interested in becoming a part of UCTV and gaining experience and meeting new people, please contact us. We'd be more than happy to answer any questions you may have. Thanks for stopping by!
Click here to learn more about our positions.
---
UCTV is now located in the Towers Dormitory Beecher/Vinton Building on the first floor. Our mailing address is
UCTV
2110 Hillside Rd U-8
Storrs, CT 06269
Our phone number is(860)486-1000 and currently we have no fax number. Please stay tuned for updates soon.
---

This page was last updated on 05/06/00 02:07 PM
This Web site created and Maintained by Tim Larkin
Please Direct all questions an comments here.